West Michigan Whitecaps Become 2nd Midwest League Team to Get a Street View Virtual Tour from
Fox Virtual Tours and then Win the Championship
Congratulations to the West Michigan Whitecaps for winning the Midwest League Championship with a thrilling 3-2 series win over the Cedar Rapids Kernels.  The Whitecaps, based in Comstock Park just north of Grand Rapids, Michigan, recently became the second Midwest League team (after the Kane County Cougars of Geneva, Illinois) to showcase their ballpark with a Google Street View virtual tour from Fox Virtual Tours.  The Whitecaps, a Class A affiliate of the Detroit Tigers, play in the state-of-the-art Fifth Third Ballpark with a capacity of nearly 10,000.  The new virtual tour will let fans "See inside" the ballpark with Google's cutting-edge Street View technology.  Fans can see panoramic views all around the ballpark including the main concourse, seating bowl, infield views, outfield party decks, and Club Level suites and balcony views.  Fans can even discover "Easter egg" views such as mascot Crash the River Rascal at bat (his friend Roxy at umpire), Crash and Roxy playing on the home dugout or in the stands, and the hidden view behind the scoreboard.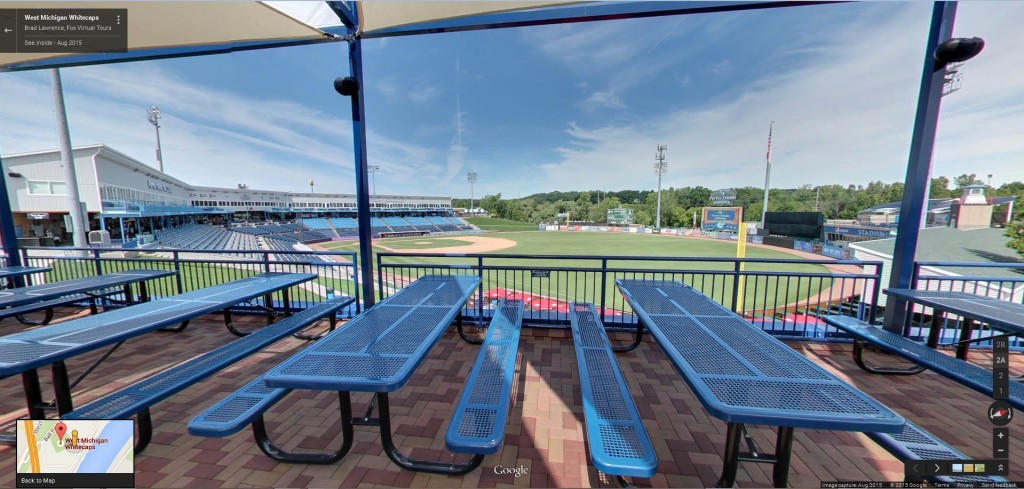 Here are some highlights from the Whitecaps virtual tour:
The new ballpark virtual tour was published under the Google Street View | Trusted program and offers several benefits for the Whitecaps.  First, the virtual tour showcases the ballpark and engages new fans on Google properties such as Google Maps, Maps for Mobile, Search and Google+ Local.  Second, the virtual tour gives the Whitecaps a powerful tool to showcase hospitality areas such as suites and party decks, as well as views around the seating bowl.  And third, the Whitecaps can embed the virtual tour on their website and post it in social media to engage and interest fans in coming to the ballpark.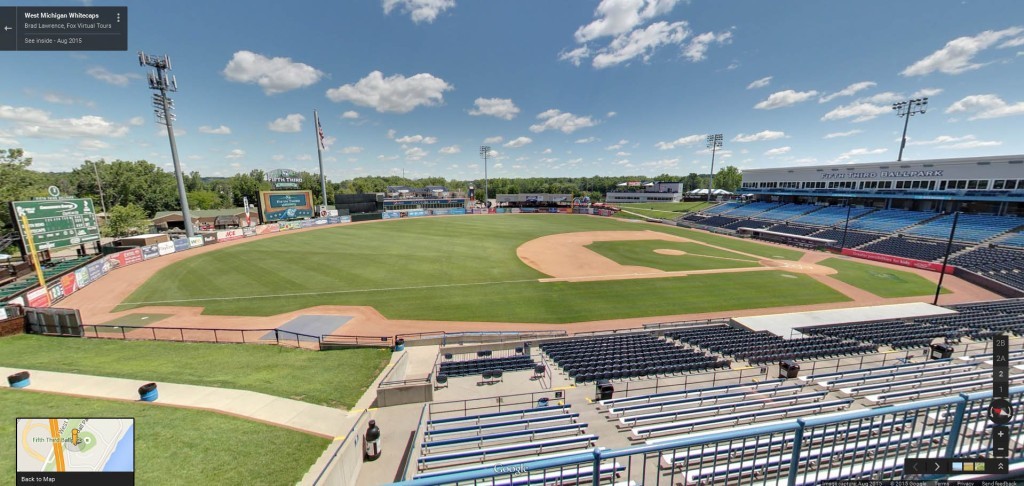 Google Street View is a powerful and affordable technology for showcasing businesses and venues of all types.  Please feel free to contact Brad at Fox Virtual Tours for more information or to schedule a photo shoot.