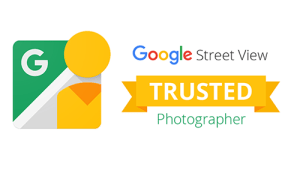 Welcome to Fox Virtual Tours

Google Street View | Trusted

Photography by Brad Lawrence
*Google Business View Annual Award Winner
Google Street View

Inside

Your Business
What Are Google Virtual Tours?
Imagine you could invite your customers to explore your business, from any location at any time.  With a Google Street View | Trusted virtual tour with Street View technology, they can do just that!  Interactive virtual tours showcase the details of your business like never before.  The images appear on Google Search results, Google Maps, Maps for Mobile, and Google+ Local, and they invite new customers to "See inside!"
Who is Fox Virtual Tours?

Fox Virtual Tours embodies the creative vision and talent of of Brad Lawrence, an award-winning Google Trusted Photographer.  We are proud to be the leading provider of Google Street View Trusted Virtual Tours in the Fox Valley, serving Naperville, Aurora, the Tri-Cities and surrounding cities.  Our online virtual tours bring your business to life on Google, your website, social media pages and more.
How Can a Tour Help My Business?
What makes your business truly unique?  With a Google Virtual Tour, customers can "See inside" and find out!  Our 360-degree Google Street View Trusted business virtual tours are perfect for retail shops, dental clinics, restaurants, pubs, salons, spas, galleries, hotels and more.  Google Virtual Tours engage new customers and double interest in your business listing, encouraging them to visit you in person!
SHOWCASE YOUR BUSINESS & ENGAGE NEW CUSTOMERS


SHOWCASE YOUR BUSINESS ON GOOGLE SEARCH, GOOGLE MAPS, MAPS FOR MOBILE AND YOUR GOOGLE+ PAGE. 
EASILY EMBED YOUR GOOGLE VIRTUAL TOUR ON YOUR WEBSITE AND FACEBOOK PAGE.
OUR LATEST GOOGLE STREET VIEW BUSINESS VIRTUAL TOURS


CLICK ON THE PREVIEWS BELOW TO SEE THE LATEST BUSINESSES WE HAVE ADDED TO GOOGLE STREET VIEW.

GOOGLE STREET VIEW BUSINESS VIRTUAL TOURS
IT'S SIMPLE, FAST AND AFFORDABLE!